A good teacher can make all the difference. Someone who speaks your movement language can have a huge impact on your technical and artistic growth, especially at key times in your training.
One of those times is the pre-professional crunch after you finish secondary school, before you're fully immersed in the industry. A BFA (Hons) can be a great use of this period, especially when you find a programme whose staff prioritise personal guidance and feedback. We've gathered a list of some such programs and broken down what each offer by way of artistic and industry guidance.
Each of these programs were part of The Conservatoire for Dance and Drama, then in June 2022, they split into independent undergraduate programs – but are all validated by the University of Kent. These programs are concert style-specific, but stay tuned for our musical theatre-themed part two. Plus, keep reading for a bonus program that trains teachers to be the kinds of mentors we're spotlighting here.
Central School of Ballet – London, UK (www.centralschoolofballet.co.uk)
BA (Hons) Degree in Professional Dance and Performance
Top draw: Offers individualised tutoring in classical ballet technique
"A meticulously planned curriculum which integrates practical training with professional development modules that provide opportunities for research, career planning, goal-setting and contextual studies." – CSB website
Central School of Ballet offers a one-year BA (Hons), preceded by a two-year Foundation Degree. The programme focuses on classical ballet with some Graham and Cunningham in years one and two. Additional studies include jazz, choreography, dance history and contextual studies, and elements of Spanish dance and musical theatre.
Students do a national performance tour in their final year, performing in a variety of styles, and getting a sense for what company tours might be like in the professional world. This is part of their 'vocational preparation', alongside assistance assembling a portfolio of work.
Students are allocated male and female ballet tutors to provide support and guidance, whose careers reflect the style of training the school provides.
Mentor spotlight: Resmi Malko, Ballet Tutor
Malko was a principal dancer with the National Opera and Ballet Theatre in Albania, and was certified as a teacher through Canada's National Ballet School. He teaches ballet and pas de deux. He also coaches students for international competitions like Prix de Lausanne, and is a Career Advisor, helping students seek out career options in the dance industry.
London Contemporary Dance School (at The Place) – London, UK (theplace.org.uk)
BA (Hons) in Contemporary Dance
Top draw: Develop your unique artistic voice, exposure to current industry artists
"You will be recognised and treated as an individual with your own unique needs and progression journey and quickly become part of a community where dance makers are inspiring and learning from each other." – LCDS website
This three-year program focuses on current contemporary movement and styles that often inspire and get integrated into that movement. This includes release work, floor work, gaga, hip hop, popping, capoeira, Cunningham- and Kathak-based work, improvisation, and contact improvisation. Ballet is included in the curriculum but is specifically noted as 'ballet for contemporary dancers.'
Additional opportunities include working with international guest choreographers, collaborating with other artists, creating a professional portfolio, and studying media and screendance, site-specific work, art theory, philosophy, cultural studies, and dance history. Students also have the opportunity to study abroad at partner institutions in California, New York, Paris, Seoul, Taiwan, and Brazil.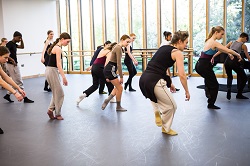 Many LCDS teachers are also practicing artists, still involved in and actively contributing to the evolution of the industry. Students may work with industry leading organisations like the National Centre for Circus Arts, or Sadler's Wells.
Mentor spotlight: Eva Recacha
Recacha has twice been a Place Prize Finalist. Her work has appeared in Time Out's Best of the Year and has presented at festivals across Europe. She has been commissioned work by Sadler's Wells, The Place, DanceXchange and others.
Northern School of Contemporary Dance – Leeds, UK (www.nscd.ac.uk)
BA (Hons) Dance (Contemporary)
Top draw: Balances contemporary and ballet training, with an optional emphasis on pedagogy or production
"The only conservatoire for dance in England outside of London." – NSCD website
NSCD is a three-year program that strikes a balance between contemporary and ballet techniques with a "thorough grounding in traditional theatre practice". It adds choreography, improv, dance film, movement research and site-specific research to the mix, as well as professional audition prep. Specialisations are available in pedagogy (teaching and arts facilitation in schools and communities) and production (festival production and event management).
Additional studies are offered through enrichment classes in the evening, including pointe, fitness, men's ballet, yoga, lighting for dance, even gymnastics for dancers.
The open ended, independent project in the final year is an opportunity to begin a body of work that supports your career goals, whether that's choreography and performance, teaching, producing, or even a written dissertation.
Sessions with tutors are scheduled into your timetable, and additional tutoring hours are bookable with almost any NSCD teacher.
Mentor spotlight: Amaury Lebrun, Curriculum Lead and Lecturer in Dance
Lebrun trained at the School of American Ballet, where he was handpicked by Jerome Robbins for a new creation. He has danced with many classical companies, as well as Compañía Nacional de Danza as a principal dancer, performing contemporary works by Nacho Duato, Mats Ek, Ohad Naharin and William Forsythe.
Rambert Grades (www.rambertgrades.com)
Rambert offers a BA (Hons) Ballet and Contemporary programme of its own, which, if you're in the market for a BA, is absolutely worth researching. But we're interested in a newer programme of theirs. Rambert Grades, which offers syllabi in contemporary dance and runs globally accredited exams, has started an initiative to teach teachers how to guide students through their syllabi. They host an online, live session training platform that covers creative work (developing artistry in students), technical material (equipping teachers to teach a broad spectrum of work), and performance (tapping into currant contemporary choreographers and the present moment of the industry).
"As a whole, we try to boost and empower the individual," says Hannah Kidd, Head of Education and Examinations for Rambert Grades. She underlines how the programme encourages teachers' voices to come through in their teaching. She also notes the duality; a good mentor encourages the same voice in their dance students. In a Russian doll sort of sense, the teachers program is a mentorship for mentors. It even includes monthly support sessions that teachers can drop in to. When exam time comes, Rambert Grades gets to reconnect with the teachers they trained, and see firsthand the impact they've had on their students.
Rambert Grades was created due to "a desire to create a framework that took the quality of Rambert Company and Rambert School and share that more widely," explains Kidd, "creating a community that shares that ethos and vision."
Given the attention Rambert gives to its teachers and their professional development in providing mentorship, any program they run (BA included) is sure to hold that value, and be taught by mentors who teach intentionally.
By Holly LaRoche of Dance Informa.