Alvin Ailey was clear: dance came from the people, so it should always be delivered back to the people. It belongs to the people. Ailey II, Alvin Ailey American Dance Theater's second company, will be bringing dance to the people of the UK – touring the nation in late September and October.
Thus, communities who have never experienced the unique magic of Ailey's work performed live will have the opportunity to do so. Further, it's Ailey II's first international tour since the pandemic shutdown – a milestone in itself. It's also the 50th anniversary of Ailey II and the 65th of the main company – so, for the Ailey community, a lot of celebration is in the air.
Dance Informa speaks with Ailey II dancer Jaryd Farcon and Ailey II Artistic Director Francesca Harper about the tour. They describe those gifts for new communities, as well as for Ailey II artists; what's in store for the tour; the value in artists exploring new places and new cultures; and much more. Without further ado, let's hear more!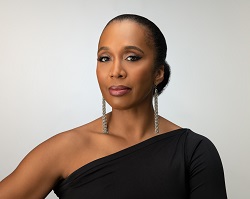 The tour: Works and places
Ailey II's tour will hit UK cities including Norwich, Birmingham, Inverness, and Nottingham. "Many of these theaters haven't ever hosted Ailey II," Farcon underscores – so they'll be bringing Ailey's work to many people for the first time ever. Find tour dates and locations here. Harper details some of the works that the company will be bringing to these locales. "We're bringing in all of my favorites!" she says with a laugh.
William Forsythe's Enemy in the Figure excerpt (1989), for one, "really leaves the audience on the edge of their seat," – with a compelling interplay between light and shadow, full of metaphor, and a good deal of structured improvisation. Farcon is excited about dancing those sections of structured improvisation, in which he sees a call to be a "choreographer in the moment."
Robert Battle's The Hunt (2001) is another work that the company is bringing to the UK – which, to Harper, spotlights the "predatory side of human nature…[running] the gambit from gladiator games to modern sports." Farcon is truly looking forward to performing this work on the tour, as well – to meet the challenge of the physically rigorous and fast, 15-minute marathon that it can feel like.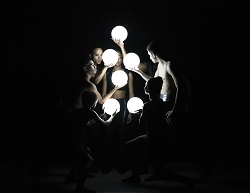 The company will also be performing an excerpt of Harper's own Freedom Series (2021). She sees it as an exploration of identity and community through collaboration, infused with ideas and aesthetics of Afrofuturism. Farcon sees it as about hope and connection, and that it's "rather emotional." He loves the contemporary ballet fusion of Forsythe's work, and "Forsytheian technologies" that help shape that vocabulary and the works that it inhabits. Harper has worked extensively with Forsythe, and Farcon notes how her work reflects that style and those technologies.
Lastly, the company will be performing Revelations (1960) — "Alvin's signature masterpiece…an homage, a reflection of his cultural heritage and blood memories," Harper says. "It's really marvelous to see dancers live through that work and pour their own identities into it." Dancing it "never gets old," Farcon confirms; there is always more to discover.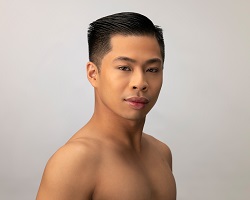 Gifts and challenges
Farcon is quite eager to tour overseas, something that he's always wanted to do. He may also have opportunities to teach master classes as well as meet audiences after shows, which he's also looking forward to. It's his second and final season with Ailey II, so it's a "last hurrah" with the company for him.
He's gearing up to dig deep into many new roles (with it being his second season), manage the time-change, dance back-to-back shows, be away from home for a longer period of time, and catch sleep on buses. "I'm excited for the challenge!" he says quite genuinely.
Asked about his goals for the tour, first is to just get through it, he says with a laugh. Above and beyond that, he simply wants to keep moving, deepen his artistry, and continue to reflect on his work after each performance. He also wants to strengthen bonds with his fellow company members; "we are only as strong as we all are…it's about connection," he says.
For Harper, it's her third season leading the second company, and things are feeling more "fluid" as she's settled in and been able to put her vision into action. It's been fulfilling for her to watch these dancers grow, many of whom have been there for those full three years, she shares warmly.
Harper does anticipate the notable task of touring with young dancers, many who've never before faced the challenges that Farcon noted – such as performing with significant jetlag. For many of them, it's their first time touring internationally. Yet, she knows that it's all worth it, and all quite possible, to "bring the Ailey gift forward."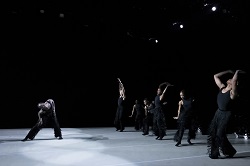 Exploring, sharing, moving forward
Farcon says that some artists on tour will settle into their hotel room and rest, while some will want to go out and explore – and he's the latter (which Harper confirms!). He says he should get some time for that before theatre calls, if he can get mobilized early enough in the day. "It's important for artists to keep seeing and taking it all in," he believes. "Even sitting by the lake, all the sights and sounds, the movement of the world…it should infuse artistry. Art is everywhere."
He adds, "Experiencing the world in that way is key for not becoming stagnant – and if you as an artist are feeling that, so will the audience. The point is to make them feel something and have an experience", and that's a big part of why he loves to explore and gain new experiences. "Global citizenship is a big part of my mission," weighs in Harper. She also believes that those new experiences, taking in the world, are vital to artistry.
For her, that's part of the giving back that's key to her background in Ailey's work – "to give back the love that was poured into me…it's cyclical," she shares. Harper sees the representation that the main and second Ailey companies offer as essential, "a light for underrepresented voices around the world."
Tours such as Ailey II's UK tour can illuminate spaces and people far beyond New York City, expanding the work's potential impact and meaning. "It's what it's all about – bringing dance to the people," Farcon says. "Come out and support us at a city near you!"
For tickets and more information on Ailey II's upcoming tour, visit www.alvinailey.org/performances-tickets/tour-schedules/ailey-ii-2022-23-tour.
By Kathryn Boland of Dance Informa.